Home Automation
There was a time in which smart-home technologies were only a dream.
Bedroom window treatments that slowly open at a set time every morning, or light fixtures that brighten and fade to follow your movements within the home? What once was the distant future can now be seamlessly integrated into your home by Schultheis Electric's qualified personnel.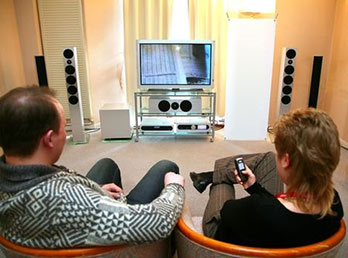 The Best that the Industry Offers
HomeWorks® Interactive by Lutron has repeatedly proven itself to be the industry standard product line for home automation.
At Schulthies, we believe in using only the most reliable components in your home, and therefore we work exclusively with companies such as Lutron, along with a hand-selected group of others, to provide a multitude of functions for our clients, including:
Programmable interactive lighting controls
Home theater integration
Automated window treatments
Motorized gate and garage door systems
Call our specialists today at 1-800-669-5373 to learn how your home can improve your lifestyle and provide unmatched comfort and convenience.
Automating Existing Homes
Home automation isn't limited to new construction. Schultheis Electric offers options that can neatly integrate into pre-existing structures, including older homes.
Interested in home security? Our expert technicians can enhance existing systems to provide visual feedback and set safe pathway illumination during an emergency situation.
Call us or fill out our convenient contact form to learn more about the ways in which we can integrate home automation technologies into your home.