Infrared Thermography
Thermal Imaging Inspections
Electrical equipment failures are often foreshadowed by an early increase in temperature due to increased resistance.
With quality thermal imaging equipment, a trained infrared thermographer can predict, and thus reduce, the chances of a costly malfunction.
Our Level 1 certified technicians specialize in performing regular inspections that are aimed at isolating any problem areas and ensuring that all equipment is performing to UL/manufacturer safety specifications.
Following our thermal imaging inspection, we provide you with an in-depth report, as well as a recommended course of action.
Call Schultheis Electric today at 1-800-669-5373 to learn more about what our scheduled thermographic inspection program has to offer.
Eliminate Electrical Emergencies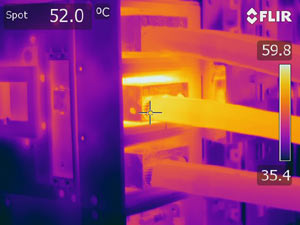 We inspect a wide range of project types, including:
High and Medium Voltage Distribution Systems
Overhead Lines and Substations
Motor Control Centers & Control Panels
Circuit Breaker Panels, Disconnects, and Fuses
AC and DC Motors
We also offer supplementary thermographic services for your convenience, detecting potential problems such as:
Structural moisture penetration (linked to mildew and building decay)
HVAC Insulation Gaps
Leaks in piping systems
Overheating Mechanical Components
Data center cooling malfunctions
Call 1-800-669-5373 or contact Schultheis Electric today to learn more about how we can increase the efficiency of your facility through infrared thermography.