Electrical Engineering
Design-Build Services
Even the highest-quality electrical components are only the building blocks for your electrical system. It takes expertise, along with dedicated time and energy to properly plan and engineer a system of exceptional reliability.
Schultheis Electric's design department puts its experience and insight to use with every project, ensuring that we meet your specifications on-time and within budget.
Call today at 1-800-669-5373 to learn more about what our engineering and design team can do for you.
Proven Problem-Solving
Our process is simple: we listen to our clients.
There's no such thing as a die-cast electrical system. We tailor fit our design work to suit your needs, giving you the equipment submittals and drawings for approval prior to installation. After completion, our team provides you with an as-built set of documents that will reflect any agreed-upon revisions made throughout the build.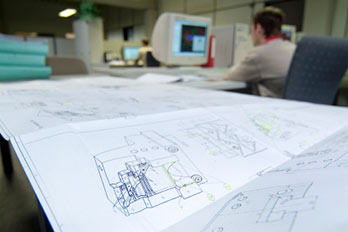 At Schultheis Electric, we meet the electrical design and engineering needs of:
Industrial Facilities
Schools and Universities
Banks and Office Buildings
Houses of Worship
Hospitals and Medical Facilities
Parking Lots
Residential Homes
Contact Schultheis Electric today or learn more About Us and what we can do for your project.