Medium & High Voltage Electrical
Specialists in Overhead and Underground Circuits and Systems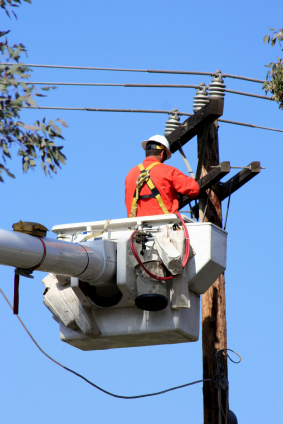 Unlike residential low voltage applications, medium and high voltage distribution systems are generally exposed to the elements.
The climate of the coastal mid-Atlantic region can be hard on most outdoor electrical components, and thus Schultheis Electric has assumed a "neither snow nor rain" approach to our repair and maintenance programs.
Our field operators are available 24/7 to solve all medium and high voltage emergencies and issues.
Do you need immediate assistance with a medium or high voltage electrical concern? Call us at 1-800-669-5373 today!
Installing It Right and Keeping It Running
Our experienced team specializes in the installation and preventative maintenance of both high voltage overhead and underground electrical systems.
With our fleet of service vehicles and extensive inventory of overhead distribution hardware on hand, we are prepared to operate year-round. Our clients range from industrial clients and commercial businesses to the utility companies themselves, which have provided our technicians with countless hours of experience with:
Distribution Systems
Switchgear
Overhead Transmission Systems
Pole & Pad Mounted Transformers
Underground Electrical Runs
Contact Schultheis Electric today to learn more about our medium and high voltage system installation/maintenance services.