Tri-State Lightning Protection
Even with peak temperatures of over 55,000°F, lightning can be controlled and redirected by our expert specialists and installation techs, allowing you to feel safe and sound, even amidst the worst of storms.
Industrial, Commercial, and Residential Solutions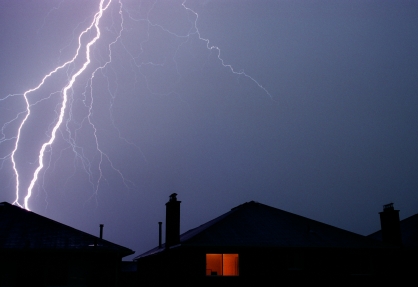 In the 21st century, lightning protection technologies have advanced dramatically, allowing Schultheis Electric to offer a multitude of cutting-edge products designed solely for your safety.
We protect:
Homes and Garages
Barns and Pavilions
Hospitals and Schools
Metal Buildings
Golf Course Rain Shelters
Churches, Steeples, and Bell Towers
Flat Roofed Commercial Buildings
Industrial Smoke Stacks
Radio Cell Towers
In addition to providing our clients with the standard UL-certified grounding systems, we offer electrical surge suppression systems to protect from outside voltage spikes, as well as supplementary grounding to defend against power surges and power quality anomalies.
Want to know more? Give us a call at 1-800-669-5373, or use our easy-to-complete contact form. Do it today.
Backup Power When You Need It
Some power outages are unavoidable. When lightning spares you, it can still blow transformers and take down power lines.
When your home or business simply cannot go without power, whether for vital medical equipment, sensitive electronics, or a sump pump that protects against flooding, then you need to learn about our solutions for Emergency Power and Standby Power Systems.
Our mission is to provide absolute peace-of-mind, no matter what's going on outside.
Please contact our trained staff today to learn more about what you can do to protect your business, home, and loved ones.